I have some BIG news for Sailor Moon RPG. I've completely remade the shrine! I've done & added the following: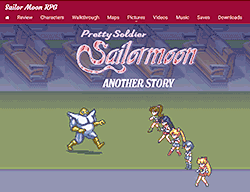 First, the whole reason why I made a new Sailor Moon RPG shrine was to commemorate the release of the MSU-1 version of the game. What's MSU-1? It's a method of hacking that allows us to replace a game's SNES soundtrack with a CD-quality soundtrack of our choosing. Sailor Moon RPG's MSU-1 project replaces the soundtrack with a beautifully orchestrated version. The team for this project even commissioned musicians to reproduce songs! Now that's dedication! The team selected my Sailor Moon RPG shrine to be the home for this project. And so I made a dedicated page for it: Moon Healing Orchestration. And if you really like the newly orchestrated soundtrack, you can download it from the Music page.
The Game Review page (previously called 'About the game') has been completely rewritten. The history section has been expanded, featuring more info and website screenshots from the 1999 fan translation.
The Characters page has been expanded with more info, technique lists, and GIF animations for attacks.
I now host a full walkthrough for the game. Relevant game maps are sprinkled throughout it for further assistance.
For the Maps page, as you may or may not know, I originally used FuSoYa's utility to export maps from the game. Doing this quite literally saved me weeks of tedious map-building work. However, many of the maps came out looking weird and messy. That's (nearly) resolved now - I took the time to clean up the maps. And I connected separated maps. They're looking much nicer!
For the Art page, I got my hands on that famous strategy guide that's been the source of the best art for this game. So the art page now has a gallery of 30 new high-quality scans, including a full download of the strategy guide.
I added 40 new screenshots for the Screenshots page. A handful are neat animated GIFs.
To the Desktop Wallpapers page, I added new HD 4K wallpapers. Three of them are in my 'Octopath Traveler' style where I Photoshop sprites over HD photos.

All other pages have been redesigned and look cool :)
I made a bunch of video game emulation updates:
Added a tutorial for iOS video game emulation! Yes, it's possible to install emulators on an iPhone (or iPad) without jailbreaking.
Updated the tutorials for PCSX2 and DuckStation with entirely new screenshots and up-to-date directions.
The tutorial for emulators on Android now has a full list of recommended emulators.
There's been some big changes with Saturn emulation. SSF (one of the top Saturn emulators) officially supports loading ISOs now. It's as simple as other emulators - you just go to File > Load ISO. Hence, I've updated my SSF tutorial with this new, easier method of loading games.
ISOs for CD-based games have a new ISO format: "CHD". This format is the new standard that everyone needs to adopt using for Sega CD/Mega CD, PC Engine CD, Sega Saturn, and PlayStation 1. I've updated all relevant tutorials mentioning this new format and how to find them.
And other site updates:
So I have some bad news. I didn't want to make this news post depressing by talking about it first. Square Enix sent me another Cease & Desist takedown notice. First it was for my ROMs, and now it's for my soundtracks. They made me remove all music files for Final Fantasy 1-9, Chrono Trigger, Mana series, SaGa series, Front Mission series, and Parasite Eve. Even the MIDI files had to be removed! It would seem I lost the privilege of hosting any music files for these games, including fan music.
What perplexes me about these takedown notices is that my website is a small fry compared to other ROM and music download sites. They're far more popular than me, and offer the same 'illegal' content. In Google you can see the takedown notices Square Enix sends to websites. I found out I'm the only website they sent a takedown to.
Why does Square Enix find my website to be far more threatening than a ROM site? I've thought about that question a long time... the only thing that separates me from a ROM site is that I'm a fan site. Fan sites don't really exist anymore; they're a thing of the past. I don't have fan site competitors. So perhaps Square Enix finds my fan site format threatening for possibly confusing people with their official site. Or perhaps it's a compliment to my web design skills that the fan site format makes it too easy to find ROMs and full soundtrack downloads.