Nintendo announced a 3D remake for Super Mario RPG! It'll be released for the Nintendo Switch on November 17th! To comemerate the 3D remake, I've updated the Super Mario RPG shrine with content from it. I also made general updates to the shrine. I added the following.
And other site updates:
To Video Game Emulation for Newbies, I re-wrote the Download & Setup article and made it more helpful. I added more pictures. I added tips on how to find the best games per system. I added an explanation about how emulators for PlayStation 1, Saturn, Sega CD/Mega CD, and TurboGrafx16-CD/PC Engine CD are sensitive with different types of ISOs, and how to resolve that. I also updated the Gamepads guide with the latest top gamepads.
To Dungeons & Dragons Arcade, I added 7 new gorgeous high-quality pieces of art. I organized the art better, too; it's now in three pages by category.
Finally, I have bad news. I'm sure you have felt the reprecussions of inflation. Costs have risen for everything. People have been laid off. Well, these problems have impacted web hosts. More and more web hosts are getting rid of the 'unlimited space' perk. My web host recently did away with it.
The 'unlimited space' perk was key in allowing me to host video files and large ROMs. Recently, my web host sent me an email: "Hey, so... we have good news and bad news. The good news is we're upgrading your server. Your site is going to run 10x faster. The bad news is we're introducing a new pricing structure that puts restrictions on server space. Currently, your site takes up 240 GB. Your monthly fees will increase 6x. If you want to keep the same monthly fees, you need to keep your site below 60 GB." Well, I'm not willing to pay more for the site, so I must abide.
For the most part, stuff that won't be missed was taken down:
Removed all WAV versions of soundtracks. This is not a huge deal because you can easily make your own WAV soundtracks. My Extracted Game Music tutorial has directions with that.
Removed several 'bonus' ROM downloads such as Tactics Ogre (PSP) in the Ogre Battle MotBQ shrine and Castlevania Chronicles (PSP) in the Castlevania SotN shrine. This is not a huge deal because you can easily find them on ROM sites.
In RPG Lunch Break and Classic CD RPGs, I removed all ISO downloads for Sega CD/Mega CD and TurboGrafx16-CD/PC Engine CD games. This is also not a huge deal because ROM sites.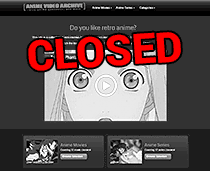 The biggest blow is to the Anime Video Archive. With a heavy heart, I took down ALL video files. It's no longer a video archive. I don't want to completely take this site down because of this. It still has value with its hundreds of screenshots and soundtrack downloads. I suppose I will try to rebrand it as an anime reviews website. I could even put back up the content I had removed when I received the DMCA takedown notices for Record of the Lodoss War, Ninja Scroll, the Sailor Moon movies, and others.
Anyhow, I'll figure this out. I don't need video files to keep the spirit of retro anime alive. My FantasyAnime.com initially started in 1998 as a massive anime gallery. Perhaps it's time to bring that spirit back?