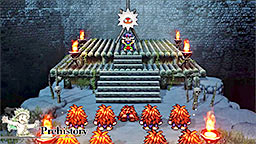 Everyone's talking about February's Nintendo Direct. Nintendo announced an HD-2D remake of Live-A-Live, a 3D remake of Front Mission, and Earthbound and Mother have been added to Switch Online. These RPG classics are major titles that have been shrined in FantasyAnime. Hence, to celebrate the exciting news, I've made appropriate updates to the corresponding shrines.
The Live-A-Live shrine was partially re-worked. The main page has demo trailers for the old and new game for comparison and to promote them. I added a dedicated HD-2D Remake page with screenshots and a comparison video. The Music page was updated with the soundtrack in MP3.
Similarly, the Front Mission shrine has a dedicated 3D Remake page with screenshots. Some time ago, I already updated the Music page with MP3 soundtracks for the SNES and PS1 versions of Front Mission.
To the Earthbound shrine, I updated & re-wrote the About the Game page. I added GIFs to make it more interesting. The Screenshots page now features screenshots from Mother and Mother 3. I added a Walkthrough page that hosts Nintendo's Official Player's Guide in PDF. What's special about this PDF is that it isn't a scan - it's an export from the source file!
Some time ago, I updated Parasite Eve's Music page with MP3 soundtracks. I received some complaints that I was claiming this was a full soundtrack, but it didn't include the tracks from the CGI sequences. Well yes, that's true because I normally rip my PS1 soundtracks from PSF and they don't include the CGI tracks. I felt bad for misleading people. So I went ahead and bought Parasite Eve's official soundtrack and ripped it for you. So now the Music page does feature a complete Parasite Eve soundtrack. It includes bonus tracks, too!
To the Anime Video Archive, I added the site's second live-action movie: Sweet Home! What's special about this movie is that it inspired the Resident Evil video game series. There's also a dark and awesome NES game based on the movie under the same title, which my Sweet Home movie page features for download (towards the bottom). Also, you may have heard that Project A-ko recently had a Blu-ray release. I updated my Project A-ko movie with this higher-quality version (both dubbed & subbed versions).
I made some updates to the video game emulation pages. I updated the Recommended Video Game Emulators for Windows page with the 2022 latest top emulators for every system. And it is my pleasure to announce that PCSX2 has been ported to Android as AetherSX2. This is a big deal because Android hasn't had a worthwhile PlayStation 2 emulator. I made sure to update the Android emulators page with AetherSX2.
The dust is settling from Square Enix's Cease & Desist letter they sent me two months ago. I have since updated all the Downloads pages where Square Enix roms were removed with links to rom sites. This is the best I can do to make up for the loss.