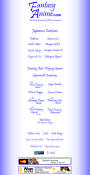 FantasyAnime in 1999
FantasyAnime was born in 1998 through my desire to spread the happiness that video games and anime have given me. It is maintained by one person. As the slogan says, it is dedicated to select fantasy RPGs, select anime, and other related areas of interest. Although it is solely maintained by me, quite a chunk of its content has been fan submitted material so in a sense this was a collaborated effort.
FantasyAnime's true purpose is the service of nostalgia. I want to remind everyone of the happiness that classic games and anime have given them. I want to spark up that love people have almost forgotten from their youth when they first experienced games/anime. I want to revive that moment of excitement and enthrallment from being in awe about something cool during the age of innocence, the time when happiness was pure. Such happiness is a precious and beautiful thing that we should keep close to our heart and never let go of.
Enter the Shrines!
For the most part, FantasyAnime is a fragmented site consisting of many 'shrines' (mini sites). They're the heart of FantasyAnime! I chose this kind of structure to give me the freedom for each part of FantasyAnime to have its own personality. Due to the vast amount of shrines I have, it's not easy to keep the design updated with each one. Some shrines look nice & modern while others look like time capsules from 2003!
So why select RPGs/anime? Why not just all of them? Well, it's simple... I don't like everything! This website is a reflection of my hobbies and interests. Dedicating it only to a select list allows me to focus and pour all of my love into the RPG/anime shrines that I have created.
FantasyAnime's Anime Shrines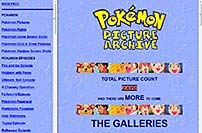 The Pokémon Picture Archive in 2000
In the early years, FantasyAnime focused mostly on anime and housed several massive screen shot galleries. Particularly, FantasyAnime was known for its incredibly popular "Pokémon Picture Archive", containing hundreds of screen captures from the Pokémon anime. However, as the Internet matured the popularity of downloading anime shots (and pictures in general) died down. All the anime galleries have been retired due to lack of interest both on my part and with demand. They've been replaced by the Anime Video Archive. Video is all the rage these days so FantasyAnime offers a streaming site with tons of late 80s/early 90s anime (and a few surprises). It's a responsive site with HTML5 video, so it's friendly on smartphones/tablets! It also offers screen shots, soundtracks, and behind-the-scenes footage.
FantasyAnime's RPG Shrines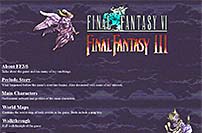 The Final Fantasy VI shrine in 2000
"FantasyAnime" directly implies anime of the fantasy genre, but I try to expand its definition to identify video games (from Japan). FantasyAnime has always had its RPG shrines, dedicated to various classic RPGs. Every year new RPG shrines would be added. The shrines offer game info, screen shots, official art, music, desktop wallpapers, game save files, movie clips, the game for download, and more. What makes FantasyAnime special in this aspect is the selection of RPGs. There are many great RPGs in Japan that were never officially released in North America. Dedicated fans with knowledge of "ROM hacking" and the Japanese language took it upon themselves to translate these games for us. FantasyAnime helped a great deal in the promotion of these fan translated RPGs by shrining these rare gems. The RPG portion of FantasyAnime has received the most focus so it is the largest & best part of the site.
Subsites & Features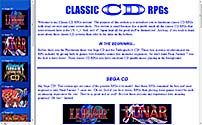 "Classic CD RPGs" in 2003
Because it is my mission to spread the happiness that anime and gaming have given me, I've wanted to make it as easy as possible for people to experience them. I offer all the best video game emulators for download on a single page. I created Video Game Emulation for Newbies, a subsite with tutorials for every popular video game emulator. I created Translation Nation for people anticipating other Japanese RPGs that could potentially be translated to English. I created RPG Lunch Break for people temporarily bored of playing RPGs to play other great classics. I have created several special tutorials such as the Save State Hacking tutorial to teach people how to cheat with any RPG and the Extracted Game Music tutorial to teach people all about raw game music.
The future...?
My passion and dedication has not wavered over time. FantasyAnime will always be around and continue to be updated/improved. Expect more exciting additions for the years to come!