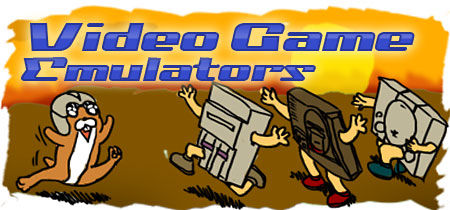 Video Game Emulators
Here you will find all the best video game emulators for every common OS & device!

Windows

Emulators for Windows

Android

Emulators for Android devices

Other
Emulators for iOS, OSX, Chrome OS…

iOS

Mac
MacScene.net contains all the available video game emulators for Mac! It has a pretty active commnity, too. • You might also want to check Bannister.org because that guy alone made the majority of the available video game emulators for Mac. In other words, he's like the father of video game emulation on OSX. • For some reason, MacScene.net doesn't have a PS1 emulator posted. So to download one, go here: PCSX-Reloaded. • Also make sure to check out OpenEmu, a popular multi-system emulator with a great graphical front-end.

Chromebook (Chrome OS)
A multi-system emulator supporting Game Boy, Game Boy Advance, NES, and SNES. It works offline, has save states (right-click screen for access), and can load zipped ROMs. Emulation quality is pretty good with only a bit of scratchy audio. You need to manually enlarge the window to blow it up to a good size. Gamepads are not supported (they generally aren't on Chromebooks).
*If you have a newer Chromebook with access to the Play Store, you don't need to use this emulator. I found that RetroArch works the best on these new Chromebooks.

Linux
The easiest way to install video game emulators is to first install the Software Center (if you haven't already). There are plenty of videos on YouTube showing you how. Once installed, simply do a search for emulators to bring up the full list. Most of the emulators should work. Depending on your system and setup, some may not work. To install video game emulators manually without the Software Center requires a bit more than a beginner's understanding of Linux. YouTube is definitely your friend if you want to learn more about this. There are some really helpful videos out there, like this one: How to Create a Retro Gaming System with Ubuntu. Have you heard of the ultra affordable Raspberry PI? You can easily turn it into a RetroPie: How to setup a RetroPie. So for $35 US you'd have the ultimate video game emulation system!