Sailor Moon:
Another Story
Moon Healing Orchestration

Downloads > Moon Healing Orchestration
Introduction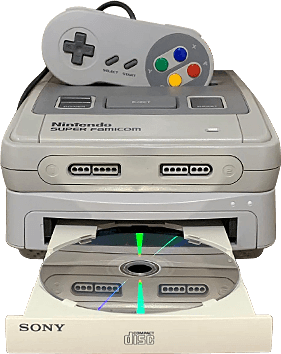 The unreleased Super Nintendo CD-ROM
To introduce "Moon Healing Orchestration", I need to tell you about the wonders of MSU-1. But first, I want to ask you: Did you ever play games on the Sega CD/Mega CD? Back in the mid-1990s, those of us with an SNES dealt with chiptune music while those with a Sega CD enjoyed CD-quality soundtracks with their games. It was an awesome gaming experience! Nintendo had an interest in replicating this technology to one up Sega during their fierce console war. A CD-ROM add-on was introduced for the SNES, but it was never released.
Then we assumed this story was closed. Well, Nintendo may have given up on adding CD-quality soundtracks to SNES games, but the fanbase didn't. That's when MSU-1 was born! MSU-1 is a method of hacking that gives us the ability to replace an SNES game's soundtrack with full audio tracks of our choosing. The majority of the most popular SNES emulators support MSU-1 games. You can learn more about MSU-1 at Zeldix.
Moon Healing Orchestration is a project that used MSU-1 to give Sailor Moon RPG a CD-quality soundtrack. The team consisted of qwertymodo, FlamePurge, and mziab. They commissioned Spooniest (an awesome indie artist) to reproduce songs from the soundtrack. Dio Arranger contributed a track as well. Other songs which weren't necessary to reproduce were pulled from existing Sailor Moon soundtracks.
Soundtrack Preview
The game's original SNES soundtrack... wasn't the best. Sure, it has its nostalgic charm. But you certainly can't compare its quality to that of Chrono Trigger or Final Fantasy 6.
Moon Healing Orchestration offers a far more immersive experience for playing Sailor Moon RPG. It's awe-inspiring from the first moment the game loads. It's as if Sailor Moon RPG was released for the Sega CD/Mega CD (or the unreleased SNES CD-ROM).
You don't need to take my word for it. Experience the difference yourself below.
Darkness and Light
Orchestration version 1.60 MB
A Life Without Worry
Orchestration version 4.64 MB
Legendary Battle
Orchestration version 3.56 MB
The Moon Healing Orchestration team also prepared this video that cycles through more song comparisons:
If you would like to preview more songs or download the soundtracks for casual listening, hop on over to the Music page. If you're thinking, "Meh, I prefer the original SNES soundtrack" - that's fine too! This new soundtrack is just an option. You can enjoy Sailor Moon RPG with or without it.
Emulators to use
MSU-1 games are supported on the following video game emulators.
Windows:

Snes9x, BSNES, Higan, and RetroArch (Snes9x or BSNES cores)

Notes: Snes9x must be version v1.55 or higher. MSU-1 will not work on older versions of Snes9x or other forks of Snes9x.

Android:

Snes9x EX+ and RetroArch (Snes9x or BSNES cores)

Notes: You'll need to use a file manager app to extract the game's zip file and move its folder to your preferred location for ROMs. If your device doesn't come with one, I recommend Astro File Manager.

Mac:

RetroArch (Snes9x or BSNES cores)

Notes: Although OpenEmu uses Snes9x and BSNES, it doesn't support MSU-1. Sorry.

iPhone/iPad:

RetroArch (Snes9x or BSNES cores)

Notes: Well, access to emulators is a more involved process since they're banned from the App Store. I have an iOS Emulators tutorial walking you through how to install emulators without jailbreaking. The Alt Stores will provide RetroArch.

Other:

SD2SNES flash carts, MiSTer FPGA, and SNES Classic
How to play
Download this:
This zip file is a bit large because it contains everything converted and ready for playing. All you need to do is extract the zip file, which will spit out a folder with a bunch of files. You can put this folder wherever you want. I recommend placing it in your SNES ROMs folder.
And don't forget to look at the "Readme.txt" file to learn more about this project. These guys put time, work, and money into this to provide you with something awesome (for free)!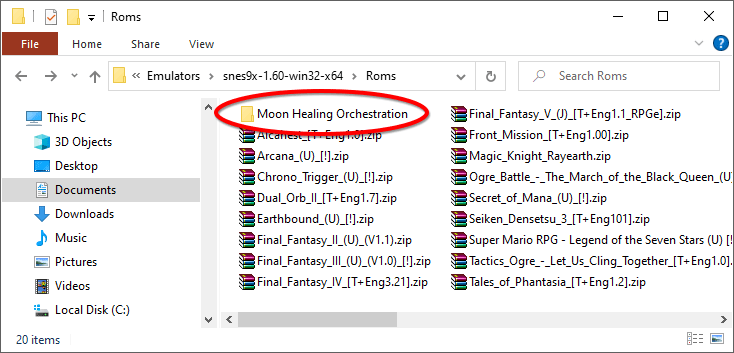 Moon Healing Orchestration in Snes9x's "Roms" folder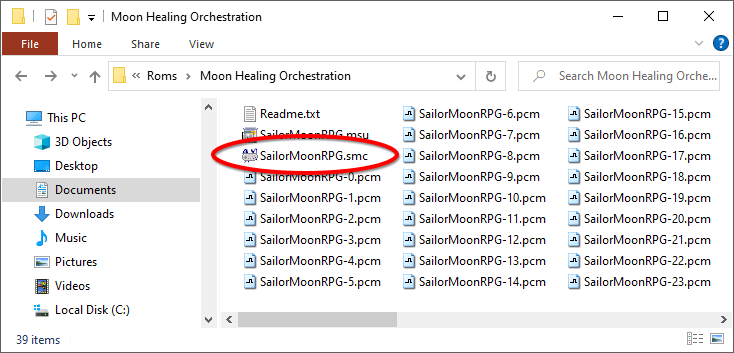 Load "SailorMoonRPG.smc" with your SNES emulator
To load Moon Healing Orchestration, simply open "SailorMoonRPG.smc". That's it! Enjoy :)
Side note: Moon Healing Orchestration uses the 2019 improved fan translation, not the original 1999 fan translation. Also, my pre-patched download does not include the "Grind-Be-Gone" and "Swiss Manicure" patches. You need to apply those patches yourself (it won't break the ROM to apply multiple patches).
How to install it yourself (optional)
The work has already been done for you with the "Converted" download above - you can skip this section. However, I know some of you may insist on installing and converting the MSU-1 game yourself. So I'm providing the source files as well.
The first step for setting everything up yourself is to download the following.
With the patch and FLAC files in hand, you can refer to this YouTube video walking you through the entire process.