Patching?
One of the great things about getting into video game emulation is that (1) you can play games in English that were never officially released in English, and (2) play your favorites games in a whole new way with ROM hacks. ROM hacks such as hacks that increase the game's difficulty, rearrange all the stages to create an entirely new game, or replace the dialogue with perverted humor. In any case, to have these experiences you need to apply an IPS patch to a video game ROM.
Video Tutorial
I've created a video tutorial with all the directions posted on this page: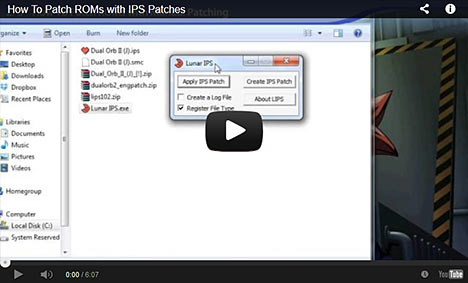 Auto Patching with ZSNES, Snes9X, & Visual Boy Advance
All you need to do is make sure the game and its English patch have the same file name (don't change their file extensions). They both must be unzipped and in the same folder. And that's it :) ZSNES/SNES9X/Visual Boy Advance will automatically patch them together when you load up the ROM. Here's an example:

And here are some step by step directions to make things more clear:
Unzip/extract the ROM from its zip file. The ROM file has either an SMC or FIG file extension (for SNES), or GBA file extension (for Game Boy Advance).

Unzip/extract the contents of the English patch's zip file. The English patch is the file with the IPS file extension.

Rename the English patch to match the name of the ROM. (As displayed in the above image with the big blue arrow)
*If the file extensions are NOT showing, go here for directions on how to show them. (Not required but makes it easier to destinguish between the files)

That's it, you're done :) Load up the game and it'll be English.
If there's more than one patch: Read the ReadMe file contained within the English patch's zip file to learn of the purpose of each patch. But if you download the patch from my site, then look under the patch's download link for a note, it'll tell you the exact patch you need to use.
Mac users: The Mac version of Snes9X has this auto-patching feature as well. But you can't have the patch in the same directory as the ROM, you need to move the patch over to the "IPS" folder.
Android/iOS users: Auto patching is not available on mobile devices.
About Manual Patching & Patching Utility Download
With manual patching, the patch is permanently applied onto the ROM. Since manual patching is permanent it's best to keep a backup of your ROM just in case. The patching utility most people prefer is Lunar IPS. Click the following link to download it:
Some notes on manual patching:
One benefit with manual patching is that it allows you to put the ROM back in a zip file. This'll save space on your computer, versus SNES auto-patching which requires you to keep the ROM out of a zip file in order to work.
You have to use manual patching in cases where two patches need to be applied to a ROM. Of the games covered in my site, manual patching must be used to apply the English patch + the bug fix to "Front Mission", and the English patch + English dubbing patch to "Tales of Phantasia".
How To Patch with Lunar IPS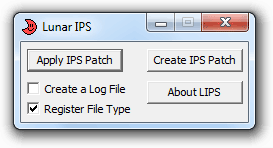 Here's how to use Lunar IPS:
Make sure the patch is on your desktop and unzipped from its ZIP file. When you're ready, open Lunar IPS by double-clicking on .
Click on the button.
The "Select IPS File to Use" window will pop up.
Click the notch in the top bar to choose the directory or folder that your patch is in. If you unzipped the patch as I said in Step #1 then you should see it in this list.
When you reach the folder that the patch is in, click on the patch then click Open, as shown here.
The "Select File to Patch" window will pop up. Just like you did in Step #3 to find the patch, this time do the same thing to find the ROM you want to patch. Click on your ROM, then click Open.
Note: If you enter the folder containing your ROM and it's not showing up, set Lunar IPS to "All Files" to see it. To do so, click the box in the lower right, then click "All Files". In my sample, "All Files" had to be clicked to show Tales of Phantasia because it's in FIG format (not that many SNES ROMs are in FIG format).
And that's it! You should see a "The file was successfully patched" message.
How To Patch on Android
You can use UniPatcher to patch ROMs on an Android smarpthone or tablet. It works the same way as Lunar IPS on Windows - just choose the IPS patch then choose the ROM, then poof it's patched. The only tricky part is that prior to using UniPatcher the English patch and the ROM both must be extracted from their zip files. Unlike Windows, Android can't extract zip files by default. You'll need something like Astro File Manager to do that.
How To Patch on a Mac

As I stated previously in auto-patching, the Mac version of Snes9X has an auto-patching feature as well. The only difference is that you need to move the patch over to the "IPS" folder.
And then to do manual patching you need to use Multipatch. It's for Mac OS X, and you can download it below.
*If for some reason you don't like Multipatch, you can find other utlities at Zophar's Domain or MacScene.
Q: How do I patch with Visual Boy Advance?
You can use either the auto-patching or manual patching methods explained in this tutorial. When you patch with an IPS patch it's the same exact process for all video game emulators of all video game systems. So patching for Visual Boy Advance does not require anything special. And if your response to that is: "Okay but I followed your directions and it still doesn't work for Visual Boy Advance" - a step has been missed. Review the ReadMe text file contained with your IPS patch (read everything) to ensure you have the correct version of the ROM, or learn of any other important details.
Q: I'm getting a "Bad Checksum" error
So you start up your patched game in your favorite SNES emulator and the first thing it gives you is a "bad checksum" error on the bottom of the screen (shown below). Don't worry! This is supposed to happen. It just means the English patch or modification/hack patch increased the size of the ROM, hence the checksum is different. As long as the game starts up normally after this message then everything is fine and nothing is broken or corrupt.

Q: After I patch a game I get a black screen
Read the ReadMe text file contained with the patch; it may have some important details you need to know about applying the patch. For example, a specific version of the ROM may be required. And as an example of that notion, "Final Fantasy III (US)" actually has two versions: v1.0 and v1.1 (it's specified in the filename). Some ROM hacks require one or the other. And sometimes you might just have a bad ROM. In that case, re-downloading the ROM from another site would help.