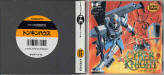 • CYBER KNIGHT for TurboGrafx16
Cyber Knight is an RPG by Tonkin House. It was released in 1990 for the TurboGrafx16 (a.k.a. PC Engine) in Japan as a Hu Card (what cart-based TG16 games are called). So yah, that's Cyber Knight for TG16.
• CYBER KNIGHT for SNES


This is the version this website is mainly dedicated to. The SNES version of Cyber Knight is a direct port of the TurboGrafx16 version. In Japan it was released in 1991. It was one of the first RPGs for the newly born SNES. In November of 2001, Cyber Knight saw the light of English day, for the full English translation by Aeon Genesis Translations was released.
• CYBER KNIGHT II for SNES


In August of 1994, Tonkin House released "Cyber Knight II: Chikyuu Teikoku no Yabou" for the SNES. In November of 2005, Aeon Genesis Translations graced us yet again with the release of the full English translation for Cyber Knight II. This wasn't easy for them to accomplish. Unlike Cyber Knight I, Cyber Knight II's programming utilized a form of compression that made it difficult for Aeon Genesis Translations to hack into the game and translate it. It took them four years to do it!
The only Cyber Knight 2 content this website has is screen shots and the game for download. Sorry, normally I go all out and make a dedicated website shrine, but I never got the enthusiasm to do it for this game. The battle system of both games is very similar, so the information below can still be used as a reference for Cyber Knight 2. Er, and GameFAQs doesn't have any walkthroughs for Cyber Knight 2 either.