The Release of Bahamut Lagoon
Bahamut Lagoon was released in Japan for the Super Famicon in 1996. It's a strategy RPG by Squaresoft. This wasn't Square's first jump into the strategy RPG genre. There was Hanjuku Hero (Famicon 1988), Hanjuku Hero sequel (Super Famicon 1992), and Front Mission (Super Famicon 1995). Because of its late 1996 release, Bahamut Lagoon was one of those gems that fell under the radar. This was towards the end of the Super Famicon's lifespan, so Bahamut Lagoon was pushed into the shadow of the 32-bit systems.
DeJap's Fan Translation
Video game emulation first became wildly popular in North America in the early 2000s. At this time, everyone was enjoying such fan translations as Final Fantasy V and Seiken Densetsu 3. People yearned to play more of Squaresoft's gems that never made it outside of Japan. Bahamut Lagoon was one of the big titles on the table that everyone was pushing for a translation.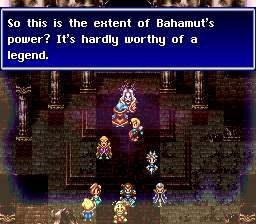 DeJap's translation
The story of Bahamut Lagoon's English fan translation was a rollercoaster. Various translation groups picked up the megaphone and called out, "We'll be the ones to translate it!" However, these translation groups never pulled through. Their either shut down or dropped the project. Everyone's excitement was crushed time and time again.
But yet, one translation group pulled through! Enter DeJap Translations. DeJap already released the popular fan translation for Tales of Phantasia in 2001, so they had a strong fan following and had our faith that Bahamut Lagoon was in good hands. In June of 2002, DeJap released the 100% finished English fan translation of Bahamut Lagoon. This was thanks for the efforts of DeJap's team, Tomato, and Neill Corlett. This website is dedicated to DeJap's fan translation.
The 2020 Fan Translation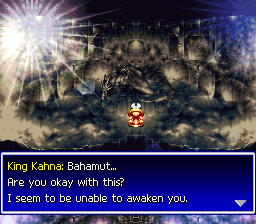 The new translation
Fan translations are never perfect and could always use improvement. While we appreciate DeJap's work, there was still much that could've been added and done better. In December 2020, "Near" and their group released the finished fan translation of Bahamut Lagoon! This project performs a major overhaul on the game.
Firstly, the game was translated by a native English speaker with Japanese fluency far beyond the JLPT N1 (the highest standard in linguistic competence). A great deal of work went into injecting the highest quality font possible. They made use of text colors to distinguish between text, names, headers, quantities, etc. They took legibility so seriously that they went as far as to implement character kerning, expand text fields, and reposition elements on every screen for better UX. They accomplished these feats (and more!) with the accumulated knowledge of the emulation community, who had been studying SNES hardware for the past 20 years. Countless bugs in the original game were corrected. And much more was done! The full list is on their website. It's incredible what they managed to accomplish! Check out these screenshots from it.