My Opinion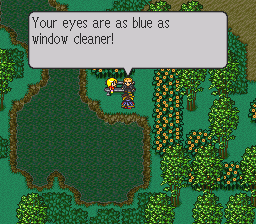 The game's humor
I love Live-A-Live so much. It's one of the handful of SNES RPGs that I keep coming back to. The unique battle system is fun and addicting. I love the manga art style of the character sprites in battle. The soundtrack is fantastic as well. This is a Japan-only gem that I am grateful is available in English thanks to the fan translation.
I love the variety offered by every chapter. The mini-stories are fun, captivating, and exciting. They keep the pace interesting by adding variety to how each scenario is played; each chapter is not a straight-forward linear RPG adventure. For example, the goal of the entire Wild West chapter is to collect items to build traps. The Future chapter doesn't even involve battles and is entirely story-driven.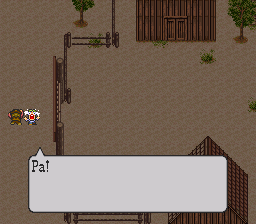 The on-going joke with the father
who keeps getting killed
Speaking of the stories, I love how Live-A-Live can get pretty dark! There are some dark themes and sometimes people die in horrid ways. It's probably one of the reasons why the game was never released outside of Japan.
There are so many hilarious lines! See a sample toward the right. There's also this on-going joke throughout the chapters with some kid's father who gets killed, and he's like, "NOOOO!!"
One thing I don't like about Live-A-Live is how short it is. Tenchi Muyo RPG wins the crown as the shortest RPG I know of (takes around 7 hours). Live-A-Live takes around 20 hours to beat. It's even shorter if you make use of an emulator's fast forward feature to level grind.
Also, sometimes it can be tedious figuring out what to do next. You'll most likely find yourself looking up a walkthrough for help. And the final battles get pretty hard! You'll need to do a great deal of level-grinding.
Overall, I think Live-A-Live is excellent. I'd recommend it to any retro RPG fan.